Los Angeles, California - Participating in Mobile Food Rescue Program by Rescuing 2000+ lbs. of Essential Groceries & 3500+ Meals Local Community's Hunger Needs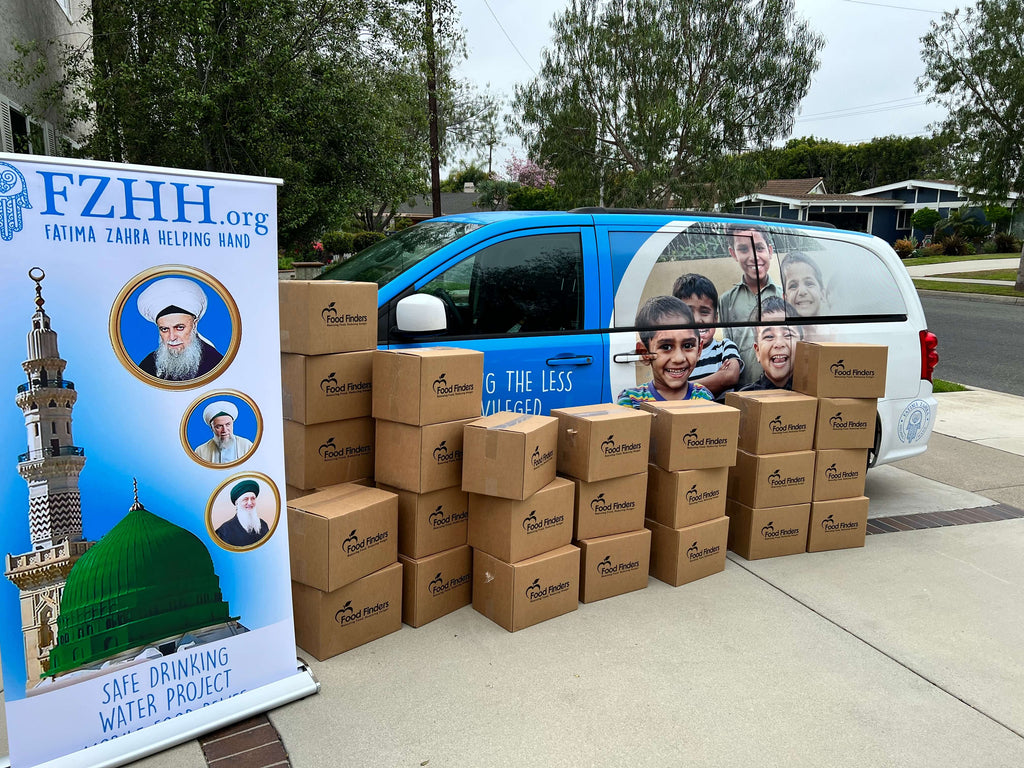 Bismillahir Rahmanir Raheem
🌹Giving Charity for the Love of the Deceased 🌹

"The Prophet Muhammad ﷺ (S.A.W) said, 'When a person gives charity on behalf of a deceased person, the gates of Heaven are opened for them, and the angels make du'a for them, saying, 'O God, forgive the one who gave charity on behalf of so-and-so, and admit them into Paradise without any account being taken of their deeds.'" (Sahih Bukhari)

Dedicate your Charity for the Souls of those whom you love.
al Hamdulillah under the blessed guidance of Shaykh Nurjan Mirahmadi, FZHH & its Los Angeles, California volunteers participated in our Mobile Food Rescue Program by rescuing 2000+ lbs. of essential groceries & 3500+ meals for local community's hunger needs.
MashAllah with Shaykh Nurjan's blessings, this distribution is dedicated to:
Holy Wiladat (Birthday) of Sultanul Awliya Mawlana Shaykh Sharafuddin ad-Daghestani ق

Holy Wiladat (Birthday) of Mawlana Shaykh Muhammad al Yaraghi ق
MashAllah with 
Shaykh Nurjan's
 blessings, rescue/distribution included: 
2000+ lbs. of Essential Groceries & 3500+ Meals for 60+ Families

Meats

Pasta

Soups

Fruits

Vegetables

Pancakes batter

Cereal

Beans

Broccoli

Potatoes

Bread

Coffee

And Much More!
Insh'Allah with Shaykh Nurjan's blessings, rescued foods will be distributed in the coming days to those whom need it most.
Jummah Mubarak🙏🏾.
Shokran to all the those whom donated and supported 🙏🏾.
Los Angeles/Orange County Naqshis please contact Asim at Asim@fzhh.org for volunteer opportunities.
Please continue to show your love by supporting these FZHH programs.
Mobile Food Relief Program

Food Rescue & Redistribution: Support Today To Purchase More Vehicles and Equipment To Help Those In Need! Our Food Rescue & Mobile Relief program services Vancouver,...

Donate Now

Sadaqah

Please add a note on which Sadaqah, Sadqah (صدقة) , or Sadaqqt (صدقات) the payment is for and dua requests. Sadaqah Nafilah: Sadaqa Lillah (لله), Sadaqa Waqf (وَقْف), Sadaqah Ja...

Donate Now

Zakat

Fulfilling your Zakat is an act of faith that purifies wealth while also serving humanity. Your payment offers recipients much-needed help, hope and a chance to improve their li...

Donate Now